Victoria University, one of the fastest growing private universities in Uganda has signed a memorandum of understanding with Federation of Uganda Basket Association to cooperate in both sports and academic field.
Commenting about the MoU, the Victoria University Vice Chancellor, Associate Professor Krishna N Sharma said the university was honored to collaborate with FUBA.
"We realized that sports is not just a game these days, we have different faculties and we feel that we can fit well with the organization. These days games are also diplomatic; for example, in India and Pakistan there is a lot of clashes but still cricket game is something that keeps binding them, sports is more of diplomatic and that's why our faculties of humanities and social science come in to promote the unity," said Prof. Sharma.
He added that the university's aim was to build a sports culture together with FUBA and plan the collaboration such as to create an impact that will improve the level of sports played in Uganda through researches and conferences.
The Vice Chancellor revealed that next year they are planning to hold a conference in Uganda in collaboration with FUBA which will add value to participants and change their knowledge, skills and attitude.
During the signing said the MoU, Federation of Uganda Basket Ball Association president, Nasser Sserunjogi said the partnership is  aimed at capacity building, research and scholarship for basket members and fraternity.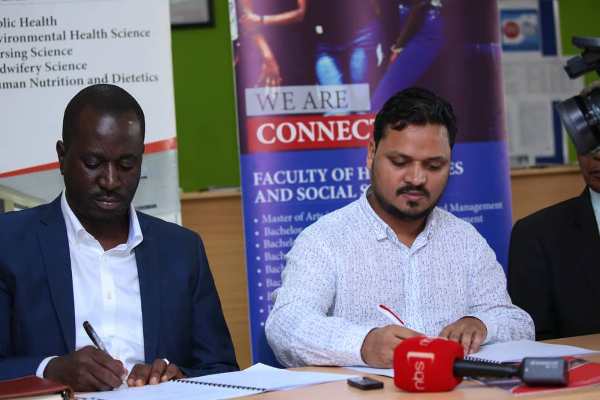 "I believe it will go in a very long way in helping us in terms of management and administration of our members as you well aware that we have clubs which are members of other associations and some of them really lack basics of administration and management of their clubs," Sserunjogi said.
He added that there is a lot of need to train those clubs in such aspects and to be well conversed with the principle of management, administration and other training aspects.
"We believe in return this will help in the growth and development of the game of basketball and at the same time it is a mutual benefit for the two parties entering into this partnership, I believe also Victoria University will benefit a lot in terms of exchanges between the two parties," he added.
He thanked the management and administration of Victoria University for accepting to come on board and partnering with the federation to try and develop the game of basketball in Uganda.